"Building a thick skin for each other" The use of 'reading' as an interactional practice of mock impoliteness in drag queen backstage talk
Years ago at a New Year's drag show, the queen hosting the event said of me and a couple friends,  "Look at these trashy whores from Virginia!" as we took some seats near the stage. I was mortified, but my bold friend tried to avenge our honor, "We live in DC!" The drag queen clapped back by mocking her outfit. This was my first experience being on the receiving end of a drag queen's withering remarks, and as three straight women in a gay bar angling for good seats to the show, we had it coming.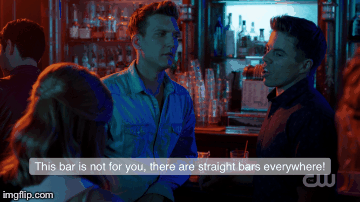 'Reading' & Mock Impoliteness
If you have been to (or performed in) a drag show, you have likely witnessed or experienced the hilarious and creative insults skillfully employed by drag queens. Sean McKinnon of Indiana University takes us on a linguistic journey of this practice in his paper "Building a thick skin for each other" The use of 'reading' as an interactional practice of mock impoliteness in drag queen backstage talk (2017).  
If you are not steeped in drag queen culture, you may not be familiar with the practice of 'reading.' Who better to tell us what it means than a crowdsourced dictionary by fans of drag queen royalty, RuPaul?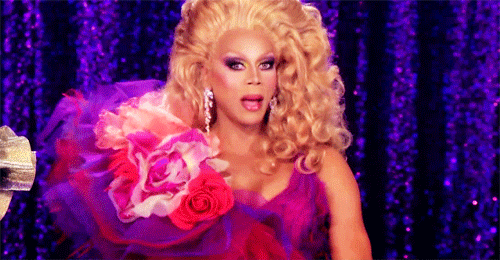 read
v. To wittily and incisively expose a person's flaws (i.e. "

reading

them like a book"), often exaggerating or elaborating on them; an advanced format of the insult. The term is a reference to the film Paris is Burning.

n. Criticism made to a drag queen.
McKinnon's work situates 'reading' in sociopragmatic theories of politeness and impoliteness. Reading, which definitionally includes an element of truth, straddles mock impoliteness and genuine impoliteness depending on relationship and context. McKinnon focuses on in-group reading and identifies it as an interactional practice for the purpose of building a tolerance to cruelty through mock impoliteness while noting that the same insults from an out-group member would qualify as genuine impoliteness.
Like that time in Mean Girls when Janice said Damian was too gay to function and it was funny, but when Cady repeated it to the Plastics and they sneered and wrote it in the Burn Book, and Cady was like 'Oh shit maybe it's only okay if Janice says it,' and then the Burn Book was distributed to the whole school, and Damian saw it, and Janice was all indignant and was like 'That's only okay if I say it!'
It's like that, guys. In-group, out-group. Know your place.
| | |
| --- | --- |
| In-Group | Out-Group |
The Research
The majority of existing research into how drag queens use language has analyzed language used during performance, in interviews, or from media. This paper is unique because McKinnon was able to record and transcribe almost 3 hours of backstage talk between 4 drag queens before and during a local drag holiday show.
His research also included an interview with Eva, the show director and hostess of show, who was one of the drag queens backstage. When McKinnon asked her about a particular interaction backstage, she brought up reading unprompted saying, "Reading is about finding something that you know the other person is kind of self-conscious about, and picking on that. In a playful way." She later elaborated, "and it's supposed to be funny, reading is supposed to be funny and creative. And that's the thing, it's not like "oh girl well you're a bitch and you're ugly," that's not reading, that's just being rude."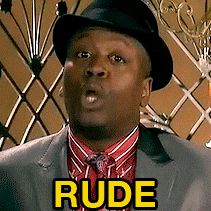 McKinnon straight up inquired if Eva thought the purpose of reading was to build in-group solidarity, a theory posited in other mock impoliteness research. She responded that she believed it was to "build a thick skin" (Hence the title of the paper. Thanks, girl!) because of the ostracism and slurs they receive from the out-group for being "over feminized" or a drag queen at all. In this case, the out-group in question is the broader gay community. Through Eva's interview and the literature review on mock impoliteness, McKinnon conceptualizes the backstage as a safe space for drag queens to dish out and take insults in preparation for unsafe spaces.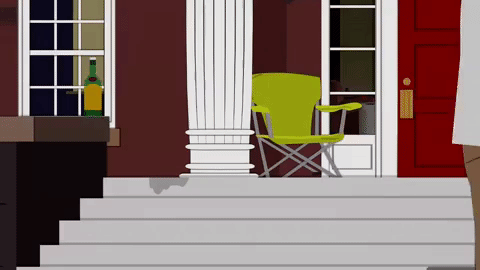 McKinnon goes through numerous examples from the backstage talk transcripts and categorized each insult as personalized negative assertion, personalized negative vocative, personalized negative reference, pointed criticism, condescension, or unpalatable supposition (Culpeper, 2011).

(This is a personalized negative vocative, btw.)
He provides analysis and context from other parts of the transcript to demonstrate how the criticism was frequently something the drag queen was already self-conscious about.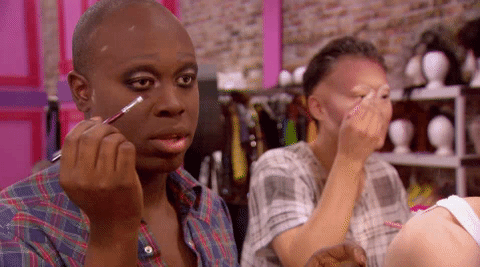 He also identifies how the insults are perceived by the target as "allowable offenses" by identifying laughter, vocalization patterns, and cooperative turn-taking in the recordings thus demonstrating how they are mock impoliteness and not genuine impoliteness. Many of the topics (appearance, performance, etc.) the drag queens used to insult each other are also topics that they might receive criticism on from the out-group. McKinnon points this out as evidence for Eva's assertion that reading serves to build a thick skin.
Conclusion
By taking a deep dive into the talk used in this intimate setting of a drag queen community this paper is able to offer up a nuance to the academic definition of reading. A read should target something the receiving drag queen is aware of and self-conscious about, so that it can accomplish the goal of building a thicker skin and arming her against the world. This paper applies mock impoliteness frameworks to show that developing in-group solidarity is not the whole story in why drag queens talk trash to each other.
Check the paper out for yourself if you're a bish interested in queer linguistics or a pragmatics bish. (The transcripts alone are worth it.)
---
Culpeper, Jonathan. 2011. Impoliteness: Using Language to Cause Offence. Cambridge: Cambridge University Press. doi: 10.1017/CBO9780511975752
McKinnon, S. (2017). "Building a thick skin for each other" The use of 'reading' as an interactional practice of mock impoliteness in drag queen backstage talk. Journal of Language and Sexuality, 6(1),90–127. doi 10.1075/jls.6.1.04mck