'First things first, Im the realest': Linguistic appropriation, white privilege, and the hip-hop persona of Iggy Azalea
Although Iggy Azalea's infamous demise makes her a dated reference for cultural appropriation,  Maeve Eberhardt and Kara Freeman's thorough linguistic analysis in this paper is incredibly relevant in 2018. Just because Azalea went away certainly doesn't mean ignorance and privilege did. Considering the number of white artists currently successfully monetizing hip-hop and black culture, I thought it was a good time to look at performance, persona, and linguistic blackface.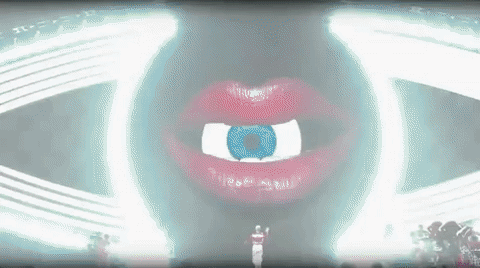 Eberhardt and Freeman provide a description of the state of white artists in hip-hop. They point out that since hip-hop's popularity is global, white people now comprise the majority of listeners. However, their participation in the industry (and consequent success) has led to a lot of distrust from the hip-hop community. There have been many white rappers who have successfully avoided minstrelsy and mimicry by staying true to their own language backgrounds. These are artists who do not try to prove their validity as members of the hip-hop community.
Eberhardt and Freeman point out, for example, that the Beastie Boys had a specific high pitch and tonal quality that marked their whiteness and Eminem frequently refers to being white and only uses the linguistic features he grew up with. In short, while these artists may use normal code-switching, they never completely cross over into linguistic varieties from groups they don't belong to.
Many white users of African American English (AAE) perform isolated linguistic forms, but ignore AAE's grammatical rules. It's Eberhardt and Freeman's opinion that at best, an I be like here or a saucin' there, when not commodified, isn't a big deal, but at worst, it supports the racist status quo in the United States and is no different from the original blackface minstrels who perpetuated negative black stereotypes.
Remember Vanilla Ice? He created a fake "ghetto" background in order to endear himself to the hip-hop community. That was crossing and so was Azalea's stage persona. Being not only white, but also Australian, she tried to flash her blaccent like a VIP member card. Ultimately though, it was rejected.
Azalea seems to be vying more for approval from the hip-hop community than most.
Freeman and Eberhardt's study looked at Azalea's entire discography of five albums from 2011-2014. The lyrics of all 48 songs were compared to her language use in five radio interviews.
They found a number of linguistic features in Azalea's raps that show a near-native proficiency in AAE. She uses more forms than out-group speakers typically are able to gain from popular media alone. This sets her apart from other white artists who use AAE features. Meghan Trainor or Miley Cyrus, for example, dot their performances with just a few isolated features, but don't use full native-like sentences. To Eberhardt and Freeman Azalea seems to be vying more for approval from the hip-hop community than most.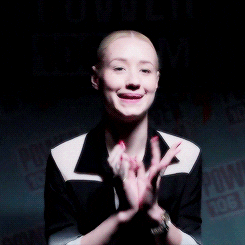 Phonologically, the features in Azalea's music are consistent with southern US rap like her mentor, T.I. She performs morphosyntactic features like the habitual be ("My chat room be popping"), which white performers rarely use successfully, like a native speaker. On top of that, she not only uses current popular slang, but also more permanent non-regional lexical items like finna, grown, and thick to name a few.
One striking feature of Azalea's performances is her copular absence, also an AAE feature. Compared to four other artists (3 black and 1 white) her copular absence is the second highest. The lowest is Eminem, despite growing up in the US with exposure to AAE. Azalea, who lived in Australia until she was 16 years old and only had mediated access to AAE in her childhood, uses copular absence at a comparable rate to the black rappers analyzed.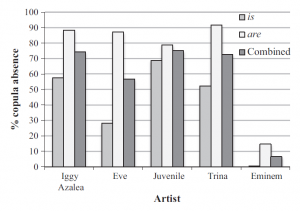 Figure 1 – Comparison of copula absence among five artists' lyrics
In interviews, however, she has no copula absence. While it is not uncommon for rappers to code-switch between their musical performances and their radio interviews, Azalea goes further completely crossing from being a native speaker of AAE in music and a native speaker of Australian English in interviews.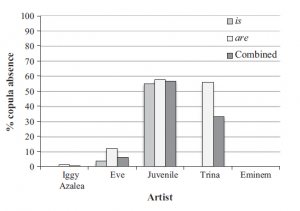 Figure 2 – Comparison of copula absence among five artists' interview speech
Beyond her blaccent, the content of her lyrics promotes many stereotypes including hyper-sexuality. When black women declare their bodies attractive, it subverts societal beauty standards. When Azalea, as the accepted archetype of beauty does this, she does not subvert standards, but supports them. In one interview she declares "everybody loves a pretty white girl" in admission of the fact that her appearance was not an obstacle to her success in hop-hop. Oh ya, she also has a lyric about being a slave master. Statements like this show that she is completely unaware of the importance of race in the US.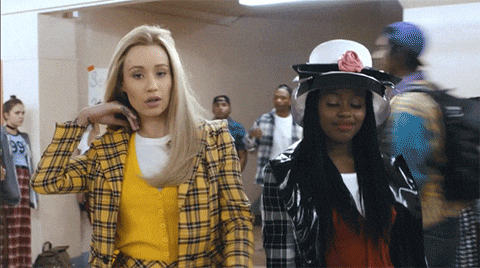 The linguistic analysis done by Freeman and Eberhardt revealed that Azalea's mimicry of AAE exceeded that of black rappers. She overshot her attempt to appear authentic and completely missed the point. Using a fake accent to rap about tired stereotypes instead of her own personal experiences was inauthentic and ultimately led to her demise.
My major takeaway is that Iggy Azalea's "overzealousness" as Eberhardt and Freeman put it, made her stand out from a crowd of artists who appropriate in smaller units. It's easy to recognize when someone takes black cultural wholesale, but this paper is a good reminder to watch out for those who may be slipping just under the radar. To be sure, there are white girls appropriating black culture all around us.
This article is great for phonology bishes, dialectology bishes, and sociolinguistics bishes
---
Eberhardt, M., & Freeman, K. (2015). 'First things first, Im the realest': Linguistic appropriation, white privilege, and the hip-hop persona of Iggy Azalea. Journal of Sociolinguistics,19(3), 303-327. doi:10.1111/josl.12128